Sunday Morning Live Stream & In-Person Services
From Pastor Adam:
Friends the COVID crisis has affected so much of our society this year. The church is no exception. Our goal as a church is to continue to provide meaningful ways to engage with our faith while prioritizing the safety of our congregation, especially those who are most vulnerable. We are continually evaluating how we can be innovative in ministry while keeping up with the changing scenarios presented by this pandemic. I am so grateful for the partnership of our leadership team and our staff in navigating these challenges.
We are offering In-Person worship during all four of our services. We have ample seating in the sanctuary to allow distancing and masks are required while in the building.
8am - Traditional worship.
9am - Contemporary worship with Westside worship band.
10am - Contemporary worship with First UMC contemporary band.
11am - Traditional worship.
We will be live streaming our 9, 10 & 11am services on our First United Methodist Facebook page as well as debuting a new online church format at https://kearneyfumc.online.church!
Our services are also available any time on demand at https://vimeo.com/fumckearney
Can't wait to worship Jesus with you. It's for his sake we do ministry and with his strength we will get through this.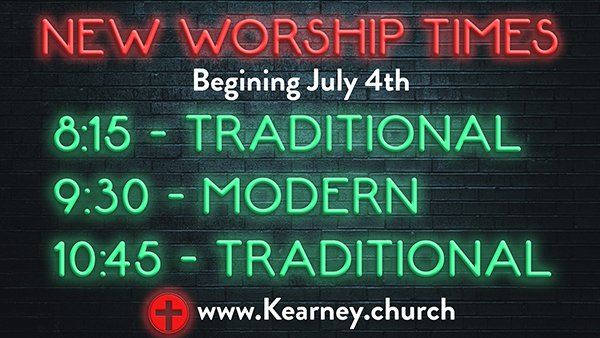 Online Worship Links
Stay connected with our weekly newsletter that includes a message from our pastor and highlights of upcoming events. Use the sign up button below to start receiving them automatically.