Our Leadership Team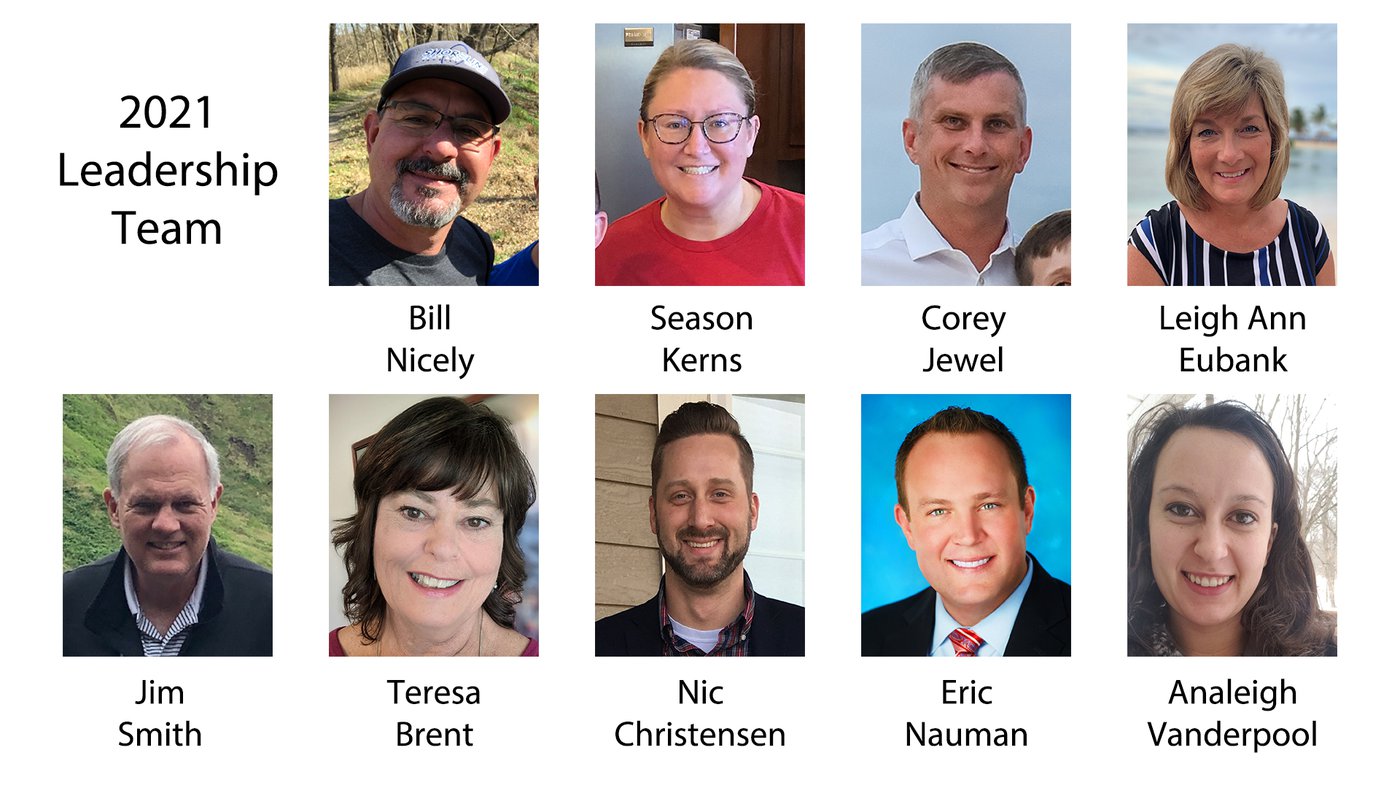 2021 Leadership Team
Bill Nicely - Chairperson - leadership@kearneyfumc.org
Eric Nauman
Nic Christensen
Teresa Brent
Jim Smith
Season Kerns
Leigh Ann Eubank
Corey Jewel
Analeigh Vanderpool
Adam Mustoe - Pastor
Leadership Meeting Minutes
Leadership Team Meeting minutes.
Leadership Team Meeting September 20, 2021 through Zoom
Attendees: Bill Nicely, Jim Smith, Corey Jewell, Nic Christensen, Season Kerns, Eric Nauman, Teresa Brent, Adam Mustoe, Sherry Oxandale & Mary Thomas
Opening prayer
Adam opened the meeting in prayer.
Leadership Development and Spiritual Formation – Jim Smith
Jim shared several different devotionals and quotes about prayer and blessings.
Approval of minutes
Teresa motioned to approve the August LT meeting minutes. Jim seconded. Motion to approve minutes passed.
Charge Conference
Adam shared that are charge conference is October 14 at noon. We will be part of a cluster with other churches via zoom. He invited anyone who would like to attend. New members of Leadership Team for 2022 are Noelle Simmons, Chris Wattier and Sarah Owen. Members going off at the end of 2021 are Leigh Ann Eubank and Jim Smith. Members of the 2022 Nominations Committee are Jim Leuschke, Ellen Nelson, Kathy Teegarden, Daressa Smith, Ken Greiner and Richard McMorris.
Focus Team Reports:
Finance report –
Insights from August Financials (if available), trends
Eric – We need to keep an eye out for big ticket items, building fund continues to grow, and payroll was down
Nic – Asked about to check on the electric parsonage account. The dollar amount was large. (Mary checked and the dollar amounts between the electric parsonage and the electric church were charged to the wrong accounts.)
Trustee's report –
Storm Damage
Bill talked with George Handy about the picnic shelter. George recommended Richmond Metal Supplies. Bill has contacted them and they are able to supply replacement sheet metal. Bill estimates the cost to be between $1,000.00 and $1,100.00 to replace. LT approved for Bill to proceed. Bill will find a group of people to help with the repair once the sheet metal is delivered.
Mitch Buhman has contacted Walker Tree Service. They will come and trim trees and remove trees if necessary.
Trees in northern walkway
New plants will be planted during the Fall.
SPRC – reports as needed
Open positions update
Next meeting will be October 18, 2021
Approved on October 18, 2021.
Contact the Leadership Team