Our Leadership Team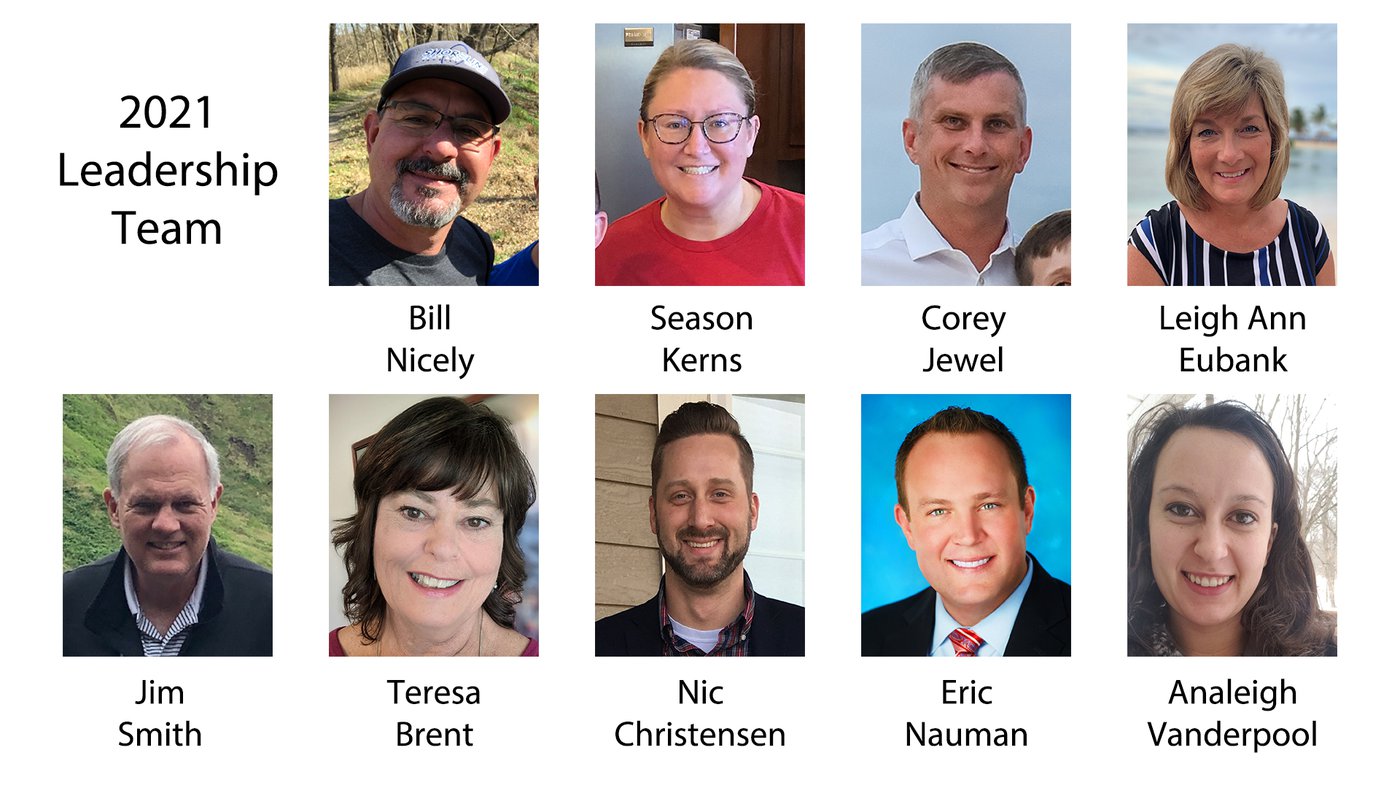 2021 Leadership Team
Bill Nicely - Chairperson - leadership@kearneyfumc.org
Eric Nauman
Nic Christensen
Teresa Brent
Jim Smith
Season Kerns
Leigh Ann Eubank
Corey Jewel
Analeigh Vanderpool
Adam Mustoe - Pastor
Leadership Meeting Minutes
Leadership Team Meeting minutes.
Leadership Team Meeting October 18, 2021 through Zoom
Attendees: Bill Nicely, Jim Smith, Corey Jewell, Nic Christensen, Season Kerns, Eric Nauman, Teresa Brent, Analeigh Vanderpool, Leigh Ann Eubank, Adam Mustoe, Sherry Oxandale & Mary Thomas
Opening prayer
Adam opened the meeting in prayer.
Leadership Development and Spiritual Formation – Sherry
Sherry shared about Susanna Wesley.
Approval of minutes
Jim motioned to approve the September LT meeting minutes. Eric seconded. Motion to approve minutes passed.
Charge Conference update - Adam
Adam shared that the charge conference was held on October 14. Pastor salaries and members of the board for 2022 were approved.
Scouts update
Beginning in November 2021, the cub scouts will not be chartered by the church. They will continue to use the facilities and will complete paperwork like all other outside groups. Scout Sunday will continue to be acknowledged.
Focus Team Reports:
Finance report –
Insights from September Financials (if available), trends
Eric – Revenue continues to be good. Expenses for September and October were heavy.
Nic – The heavy expenses are probably due to insurance payments.
Insurance will need to be reviewed earlier next year, maybe in July or August.
First assessment of staff budget proposals
Adam explained the 2022 budget. The team is asked to review and if they have any questions, to reach out to Adam or the staff member responsible for that budget. Adam and the Finance Focus group will meet to determine revenues for 2022. Final approval of the 2022 budget will be at the November LT meeting.
Trustee's report –
Roof update
The church roof was leaking. Mitch Buhman reached out to Kenaga Roofing and they repaired the leak. No further problems have been detected.
Milton Teegarden trees have been replaced. Small spruce trees have been put into pots. The plants are in pots due to how water drains off the church.
Building & Grounds equipment
Tim Cole and his group will be repairing the shelter house. This will happen in about four to six weeks.
Jim presented a snow removal proposal from Bradford Lawn and Landscaping. This is the same company who has provided this service in the past. The prices have not gone up. Proposal was approved.
Analeigh had a request from Mitch Buhman to use Hillyard to update
Cleaning materials and equipment. The bid is for $1,627.00. The LT
approved this request. Mitch also is looking into purchasing a backpack
vac next year. Mitch was given the go ahead to get a quote for the
backpack vac and if approved, to purchase it this year.
SPRC – reports as needed
Job description approval
Pastors Consultation forms
Next meeting will be November 22, 2021
Contact the Leadership Team