Our Leadership Team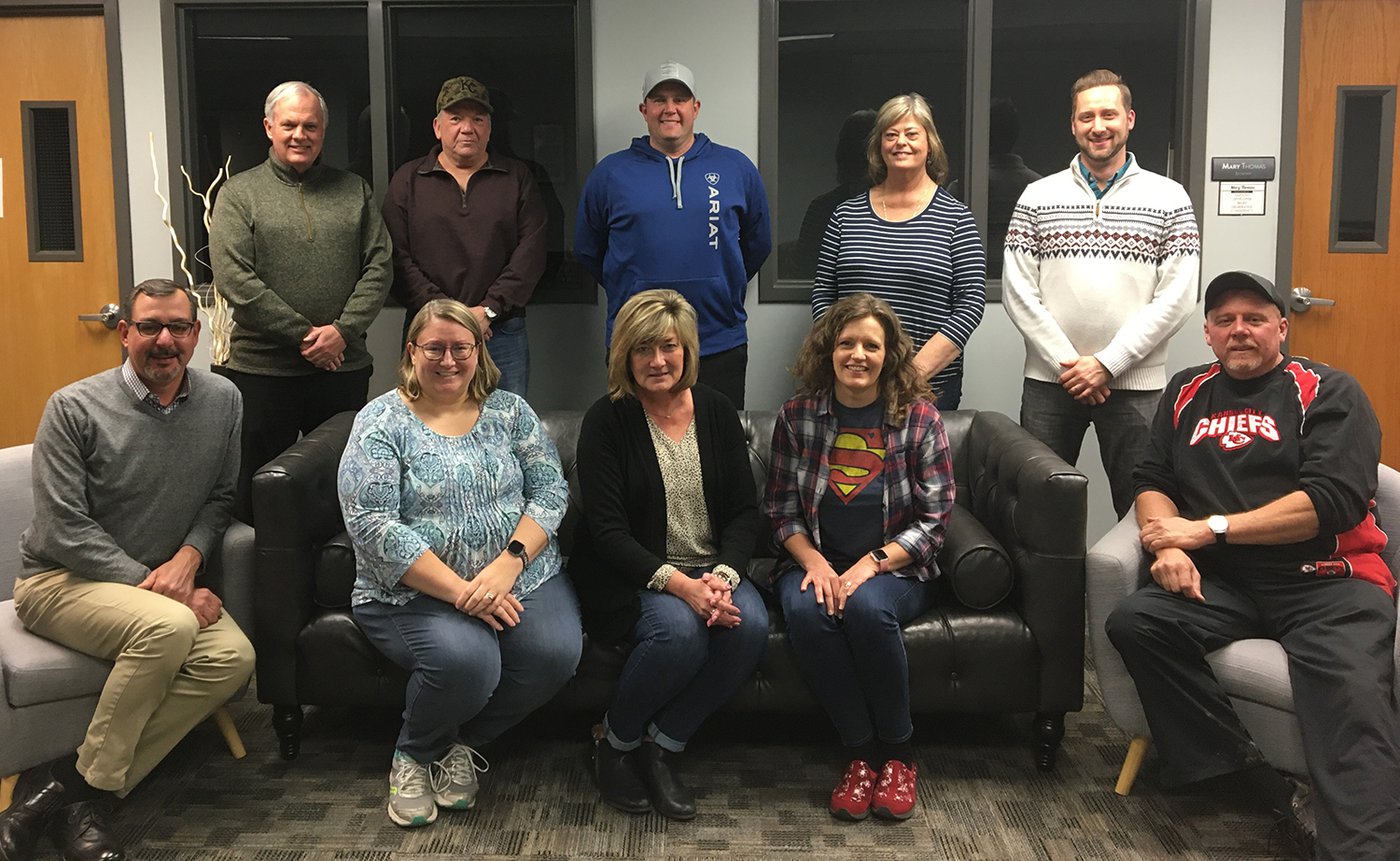 2019 Leadership Team
Carolyn Gillespie - Chairperson - leadership@kearneyfumc.org
Ron Teague
Mike Gonzales
Eric Nauman
Nic Christensen
Bill Nicely
Teresa Brent
Jim Smith
Season Kerns
Leigh Ann Eubank
Adam Mustoe - Pastor
Leadership Meeting Minutes
Revised Leadership Team Meeting minutes.
Leadership Team Meeting February 17, 2020
Attendees: Carolyn Gillespie, Bill Nicely, Eric Nauman, Mike Gonzales, Teresa Brent, Jim
Smith, Nic Christensen, Season Kerns, Leigh Ann Eubank, Ron Teague, Adam Mustoe,
Sherry Oxandale and Mary Thomas
1. Moment to focus on Staff – Mary Thomas
Something new this year is an opportunity for the Leadership Team to get to
know the staff a little better. Carolyn will provide four questions prior to the
meeting to two staff members. Two will be related to the job and two will be fun
questions.
Mary was the first to be answer these questions.
2. Leadership Development and Spiritual Formation – Carolyn
Carolyn shared a quote from a magnet she has on her fridge. "The joy of the
Lord is your strength."
We can find strength and joy through the Lord during transitions, changes and in
the future even though we don't know what the future will be.
We as a Leadership Team are not alone. God is with us and we have each other.
Carolyn prayed.
A handout was provided that showed the Leaders of Spiritual Formation;
everyone's name, email address and telephone number and what Focus Group
they are a member of.
3. Strengths Discussion – Adam
Adam asked everyone to share what their 5 top strengths are.
Knowing your strengths can help you be drawn to what type of work you want to
do on the Leadership Team. Something you do well should energize you.
Strengths are not labels. Align strengths with work.
Adam will share graphics of all of their strengths with the team.
4. New Business and Updates
a. Policy review assignments
Policies need to be reviewed on a regular basis.
Carolyn provided the following policies and asked members to choose a policy
they would like to help review.
Van Policy – Bill Nicely and Ron Teague
Communication Policy – Teresa Brent, Nic Christensen and Leigh Ann Eubank
Technology Policy – Season Kerns
b. Job description assignments
Carolyn provided the following job descriptions and asked members to choose
a job description they would like to review.
She suggested that it might be helpful to talk with the person(s) whose job
description you are reviewing.
The job descriptions were Communications, Hospitality Coordinator and Piano
Accompanist. Mike Gonzales and Eric Nauman volunteered to review all of
these job descriptions.
The policy reviews and the job description reviews are a way of the church
catching up to the size of organization we have become.
It was suggested that there be a standardized template for the policies and job
descriptions. Carolyn will provide these templates. It was also suggested that the
version and date of the review be put on the forms.
c. Take a new team picture for the website
A picture of the 2020 Leadership Team was taken. This will be put on the
website along with being on the first quarter Leadership Team newsletter.
5. Budget Review, Finance report
a. Insights from January Financials
We have not received the January Financials. When we get them from Miller
Management, they will be emailed out to the Leadership Team.
Adam shared that the church had ended both 2018 and 2019 in a deficit. The
2020 budget is based upon real factors, including 2020 pledges.
Carolyn shared that the staff worked hard to either lower their 2020 budget
or keep it the same.
Mike shared the difference between board designated funds and donor
restricted funds.
b. Update from Capital Campaign Vision Night
Adam asked for feedback from members of the Leadership Team who were
present at the Vision Night. Adam has not had an opportunity to process the
data. Once he has the data processed, he will share with the Leadership
Team and the Building Committee.
Three questions to focus on:
What are our current needs?
How do we honor the original intent?
There were a number of questions in regards to Westside. Mitch Buhman was
able to answer these questions.
6. Trustees, Building report
a. Easement discussion (see attached document)
Daniel Hacker from American Lawn and Landscaping Inc. is asking for an
easement on church property for a sewer line.
Motion presented – To go ahead with the easement with the church having a
voice, Bill Nicely, with the city. Also, with the understanding if something
goes wrong the city will fix. Season Kerns motioned, Teresa Brent seconded,
motion passed unanimously.
Ron Teague will follow up with Daniel Hacker.
b. Parsonage inspection
Adam, Ron and Jim will meet on February 28 th for the parsonage inspection.
The inspection is a requirement from the district office. This inspection is for
the benefit of the pastor and the church.
c. Lighting update
Ron had two bids, Sarin Energy and Matt Long, for LED lighting at the back of
the church.
Motion presented – To have Long Lasting Lighting and Landscaping, Matt
Long, install LED wall packs and Led lighting at the back of the church not to
exceed $1,200.00. Teresa Brent motioned, Jim Smith seconded, motion
passed unanimously.
Ron also shared a handout that showed lighting work already completed and
what lighting needs the church still has.
Motion presented – To have Sarin Energy install LED lighting in the children's
wing not to exceed $3,000.00. Bill Nicely motioned, Eric Nauman seconded,
motion passed unanimously.
Both of these expenditures will come out of Capital Expenditure Fund.
Ron also shared that it would be helpful to have an electrician and a plumber
that the church could call when we have these needs. Currently we have a
church member who helps with the HVAC system and also with kitchen
appliances.
7. SPRC, reports as needed
a. Custodial position update
b. Update on staff discussion about hourly tracking
The next meeting will be on Monday, March 23 rd at 7:00pm in classroom 4.
Approved through email: Season Kerns, Ron Teague, Carolyn Gillespie, Teresa Brent,
Eric Nauman, Leigh Ann Eubank, Nic Christensen and Bill Nicely
Contact the Leadership Team