Our Leadership Team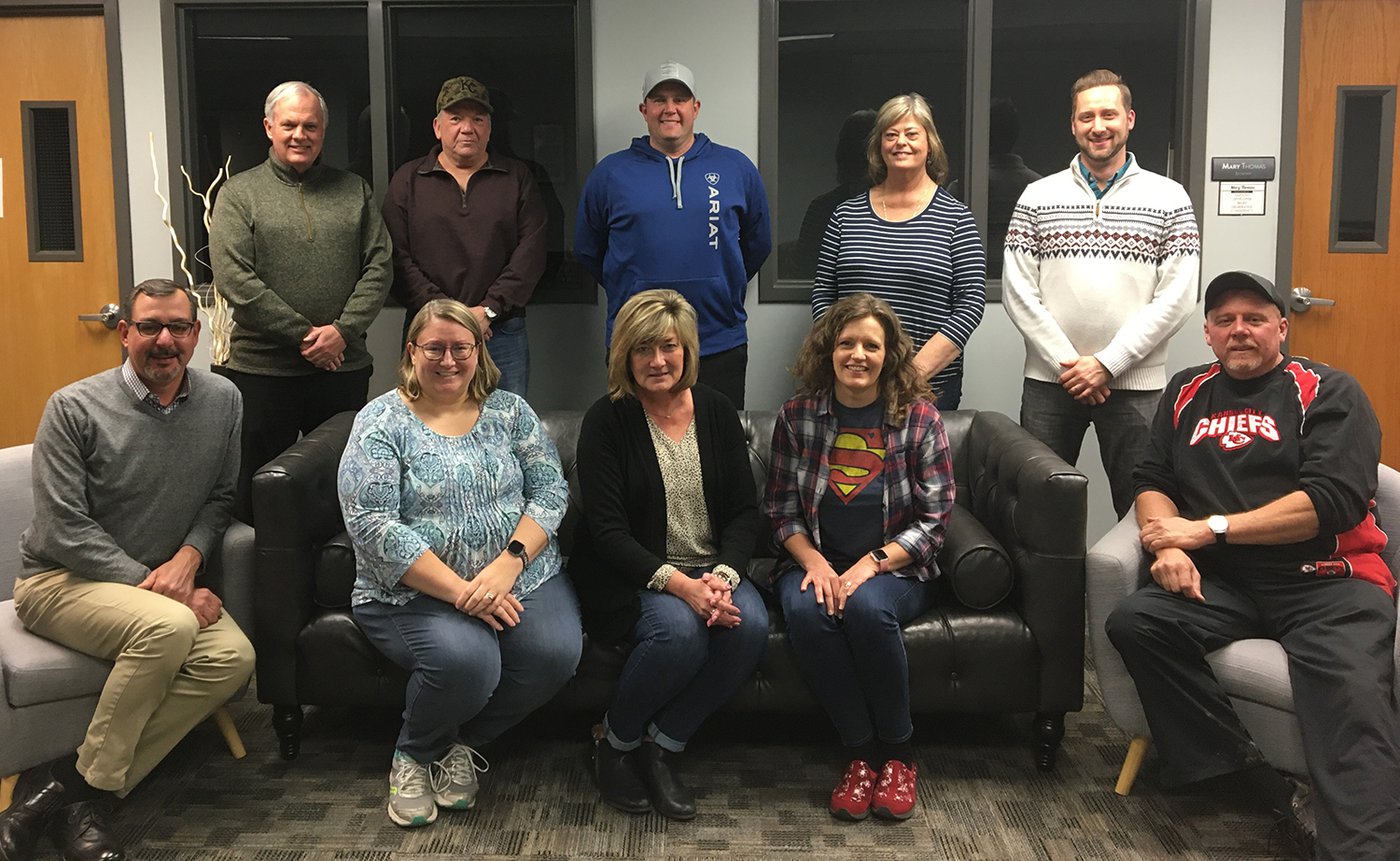 2019 Leadership Team
Carolyn Gillespie - Chairperson - leadership@kearneyfumc.org
Ron Teague
Mike Gonzales
Eric Nauman
Nic Christensen
Bill Nicely
Teresa Brent
Jim Smith
Season Kerns
Leigh Ann Eubank
Adam Mustoe - Pastor
Leadership Meeting Minutes
Leadership Team Meeting minutes.
Leadership Team Meeting September 22, 2020 through Zoom
Attendees: Carolyn Gillespie, Jim Smith, Nic Christensen, Season Kerns, Leigh Ann Eubank, Ron Teague, Mike Gonzales, Teresa Brent, Bill Nicely, Eric Nauman, Adam Mustoe, Sherry Oxandale, Mary Thomas, Amy Irsik & Cody Alter
Pray for COVID-19 and civil unrest
Carolyn opened the meeting with prayer.
Moment to focus on Staff – Amy Irsik
Amy Irsik is the Joyful Noise Preschool Director. Amy has worked at the preschool for 14 years. This year's enrollment is done. There are 40 children enrolled this year.
Questions, some fun and some job related, were given to Amy prior to the meeting so the Leadership Team could get to know her better.
Leadership Development and Spiritual Formation – Season Kerns
Season shared a devotional from the Disney Devotional and Isaiah 43:18 – 19. Theme was taken from a ride called "Carousel of Progress". Progress is important.
COVID 19 Response Updates
Adam had three handouts (Website Statement, Guidelines for Gathering Safely & Staff Exposure Guidelines) that he was seeking input for.
Website Statement – Looks good
Guidelines for Gathering Safely – Rewrite Section 2 in order to provide clearer guidelines. Under 2b include "masks required when not able to social distance.
Staff Exposure Guidelines – Need to add Volunteers. Need to include guidelines for staying home that are included in the Website Statement and the Guidelines for Gathering Safely so that there is consistence among the three documents.
New Business and Updates
Bylaws – progress made with connections form conference. Info sent to Mark Kelly for review.
Policy review assignments
Reviews of previously assigned policies
Driver – Mark Kelly is reviewing the policy
Technology – Nothing to report
Childcare – Policy was given to Nicolle Downing and Cassandra Hutchison to review as Co-Children's Ministry Directors.
Budget Review, Finance report
Insights from August (if available) Financials
Revenues looked great. Revenues were up 4% from last year. Expenses will be higher beginning in September due to Joyful Noise Preschool starting.
Edward Jones investment
A congregation member has donated stock to the church. Normally, Jim Smith from Edward Jones, sells the stock right away and then a check is sent to the church on the congregant's behalf. This time the congregant asked for Edward Jones to hold on to the stock to earn more money. Jim was asking for guidance to sell the stock. Eric motioned to sell the stock. Nic seconded. Motion passed unanimously to sell the stock. Jim abstained.
Eric made the recommendation to look at future investing of church funds.
Trustee's, Building report
No new update regarding church ventilation and UV usage, still in process with research
Easement discussion (new)
Still gathering information from the city. Sewer easement would be for a subdivision north of the church.
Eagle Scout project
Cody Alter would like to build a fire pit between the Picnic Shelter and the Garden of Eaten. Before approval will be given, the Leadership Team asked Cody to stake out where he would like to build the fire pit and members of the Leadership Team will look at the site. Members of the Leadership Team will also meet with the church's insurance representative to ask how this could affect the church insurance policy.
Church Internet improvements
Dave Zurliene provided information to update the internet and phone system for the church. This would be a $200.00 increase each month. Teresa motioned to approval the new contract and proposal. Season seconded. Motion passed unanimously.
SPRC, reports as needed
Review job description assignments
Communications Director
Contemporary Worship Leader
Contemporary Worship Leader (2nd site)
Next Leadership Team Meeting will be on Tuesday, October 20 at 7:00pm.
Approved through email: Teresa Brent, Season Kerns, Jim Smith, Carolyn Gillespie, Nic
Christensen, Eric Nauman, Ron Teague, Bill Nicely, Mike Gonzales & Leigh Ann Eubank
Contact the Leadership Team