Our Leadership Team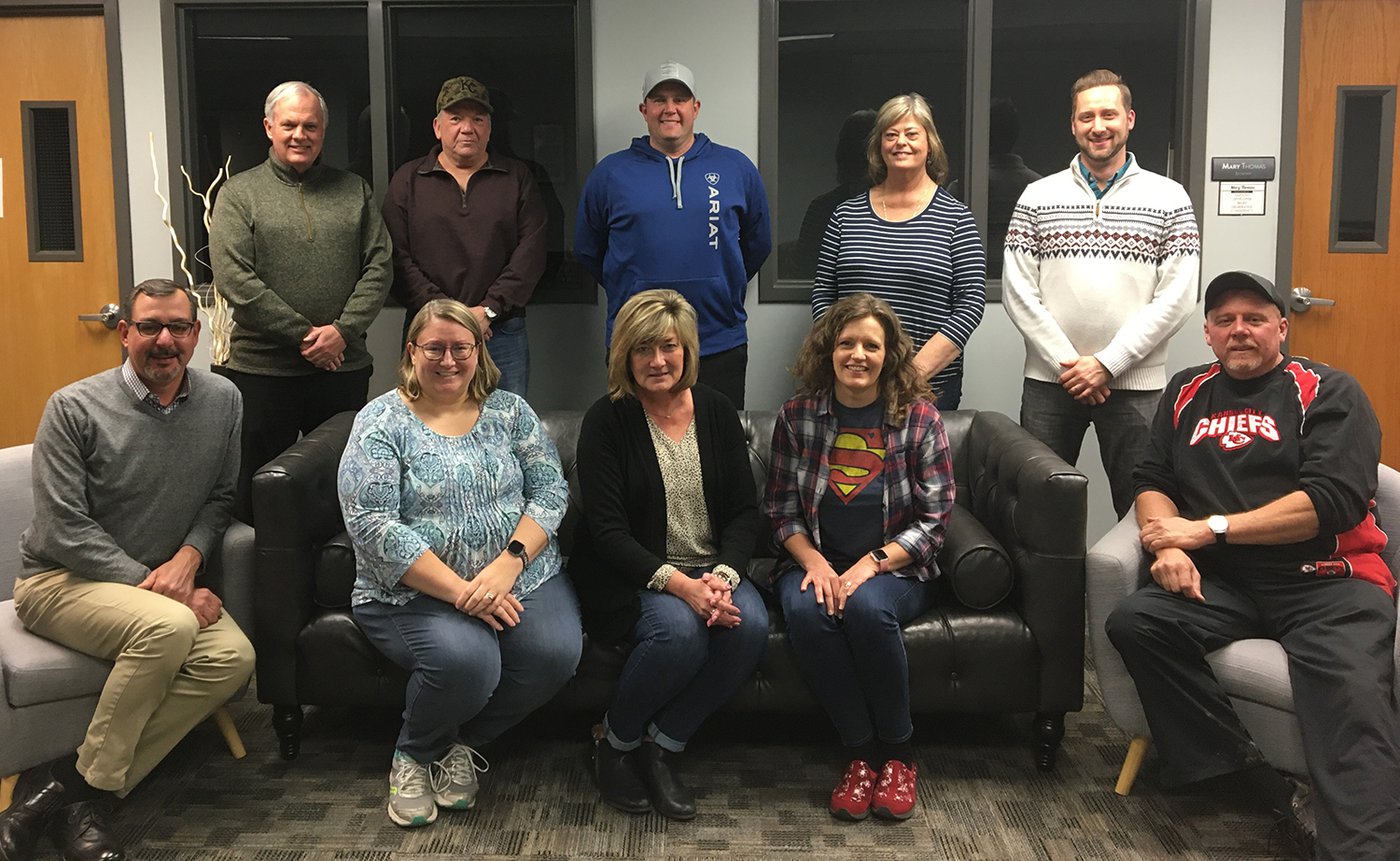 2019 Leadership Team
Carolyn Gillespie - Chairperson - leadership@kearneyfumc.org
Ron Teague
Mike Gonzales
Eric Nauman
Nic Christensen
Bill Nicely
Teresa Brent
Jim Smith
Season Kerns
Leigh Ann Eubank
Adam Mustoe - Pastor
Leadership Meeting Minutes
Leadership Team Meeting minutes.
Leadership Team Meeting June 15, 2020 through Zoom
Attendees: Carolyn Gillespie, Bill Nicely, Eric Nauman, Jim Smith, Nic Christensen, Season Kerns, Leigh Ann Eubank, Ron Teague, Teresa Brent, Adam Mustoe, Sherry Oxandale, Mary Thomas & Mike Chaloupka
Pray for COVID-19 crisis
Sherry opened the meeting in prayer.
Moment to focus on Staff – Mike Chaloupka
Mike said he knew everyone so no introductions were needed.
Mike is the Communications Director.
Questions, some fun and some job related, were given to Mike prior to the meeting so the Leadership Team could get to know him better.
Leadership Development and Spiritual Formation – Teresa Brent
Teresa shared from two books – "Leadership in the Wesleyan Spirit" by Lovett H Weems, Jr. and "Power of a Focused Heart" by Mary Lou Redding.
Teresa had Adam read the "Council of Bishops Statement on the Scourge of Racism"
In the statement it asks for the next 30 days for every Unite Methodist everywhere to join in prayer at 8:46am and 8:46pm. The Leadership Team made a commitment to pray. Carolyn will write a letter to the congregation asking them to pray also.
COVID 19 Response Updates
Reflections on reopening
Worship service was live streamed on Thursday, June 11 for Sunday, June 14 worship service. Live streaming will continue through Thursday, June 18 for Sunday, June 21 worship service.
Sunday, June 28 there will be 3 services for people to attend. People will attend by reservation and there will be no child care.
Will take a wait and see approach in regards to in person worship services after June 28.
Century Link is installing fiber optics which will help with the church's internet. Will continue to live stream the services and having better internet will help.
Question was asked about outside groups using the church building and the church grounds. Decision was made to exceed Clay County regulations out of caution. Adam will type up a summary of what was discussed in regards to who uses the facilities.
PPP loan, updates as necessary
PPP Loan forgiveness period has been extended to 24 weeks. The open Children's Ministry Director position does not need to be filled until the church asks for forgiveness of the loan or until the end of the year.
New Business and Updates
Bylaws – see template
Carolyn shared a template for the Bylaws. Carolyn, Adam, Eric and Nic will work on the Bylaws.
Approval of Policies/Job Descriptions
Communication Policy
Questions were asked about what the official name for both sites should be for publications and for policies. Decision was made that the official names will be First United Methodist Church and First United Methodist Church Westside.
Ron Teague motioned to approve the Communication Policy with these changes. Teresa Brent seconded motion. Motion carried unanimously.
Piano Accompanist
No changes were needed on the Piano Accompanist job description.
Carolyn motioned to approve the Piano Accompanist job description. Ron Teague seconded. Motion passed unanimously.
Associate Pastor – 92 Campus
Tabled to the SPRC portion of meeting
Policy review assignments
Reviews of previously assigned policies
Driver
Bill is making progress on this policy.
Technology
Season shared that the policy has a System Administrator position. She has reached out to Mike Chaloupka and Mary and asked about this position, Neither Mike or Mary said they were the System Administrator.
The question was asked whether other churches outsource this position. Adam is reaching out to other churches to see what they do.
Vacation Policy (in Employee Handbook)
Adam and Mike Gonzales are working on this.
Childcare
Season and Leigh Ann are working on this.
Job description assignments
Reviews of previously assigned descriptions
Secretary
Tabled to the SPRC portion of meeting
Communications
Eric is working with Mike Chaloupka. This might have to be updated with First United Methodist Church Westside information.
Hospitality Coordinator
Tabled to the SPRC portion of meeting
Children's Director (new)
Tabled to the SPRC portion of meeting
Budget Review, Finance report
Insights from May (if available) Financials
Did not have May Financials.
Adam shared that even though the church building is closed, that people are continuing to give which is helping our revenue.
Trustee's, Building report
Landscaping Improvements
The church grounds look good. Ron shared that a number of people have been helping with watering of the new plants. The plants need to be watered four times a week for eight weeks. If anyone else would like to help water, please let Ron know.
Ron would like help in changing out light bulbs before June 28. Brad Oxandale will help Ron change out light bulbs. The children's wing does not need to be done since that wing will be updated in July. Adam will check to see which light bulbs need to be changed.
Disinfectant and Germicidal Lighting
A handout was shared from SARIN Energy Solutions with a machine that could help with deep disinfecting the church. Discussion was tabled so that more research and information can be gathered.
SPRC, reports as needed
Next Leadership Team Meeting will be on Monday, July 20 at 7:00pm.
Approved through email: Ron Teague, Leigh Ann Eubank, Carolyn Gillespie, Teresa Brent, Season Kerns, Nic Christensen, Eric Nauman, & Jim Smith
Contact the Leadership Team