Our Leadership Team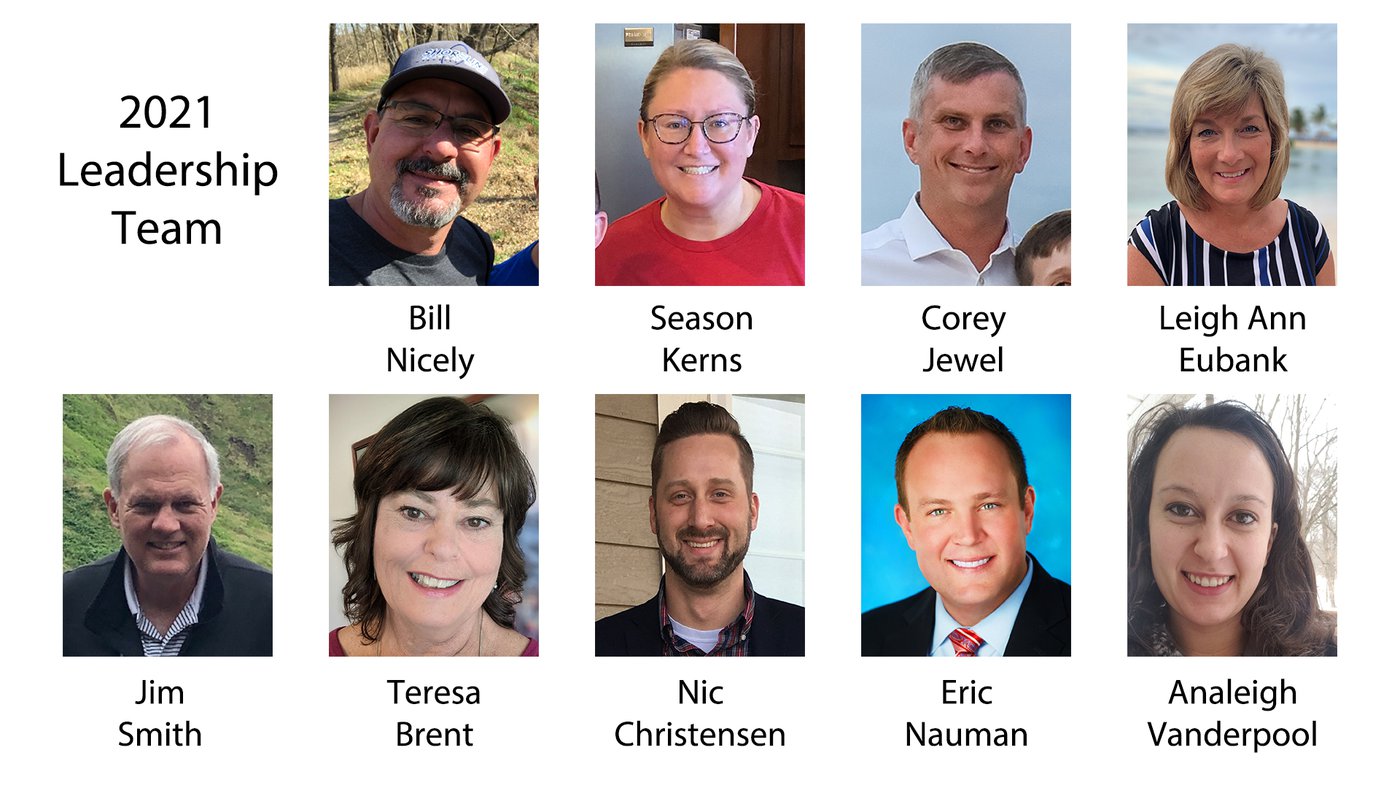 2021 Leadership Team
Bill Nicely - Chairperson - leadership@kearneyfumc.org
Eric Nauman
Nic Christensen
Teresa Brent
Jim Smith
Season Kerns
Leigh Ann Eubank
Corey Jewel
Analeigh Vanderpool
Adam Mustoe - Pastor
Leadership Meeting Minutes
Leadership Team Meeting minutes.
Leadership Team Meeting March 22, 2021 through Zoom
Attendees: Bill Nicely, Jim Smith, Eric Nauman, Analeigh Vanderpool, Corey Jewell, Leigh Ann Eubank, Nic Christensen, Teresa Brent, Season Kerns, Adam Mustoe, Sherry Oxandale & Mary Thomas
Opening prayer
Adam opened the meeting with prayer.
Leadership Development and Spiritual Formation – Season Kerns
Season talked about patience. She shared Psalm 27:14 and Psalm 37:7 – 11 that talks about patience.
When have you seen a strength in action? – Group discussion
The groups shared where they have seen their strength(s) in action.
Approval of minutes
Teresa motioned to approve the February LT meeting minutes. Season seconded. Motion to approve minutes passed.
COVID 19 Response Updates –
People continue to come back to worship. The 92 Contemporary Worship Service and the Westside Worship Service swapped times. Westside will now meet at 9:00am and 92 Contemporary will meet at 10:00am. Did this to help with capacity issues. Will continue to monitor capacity and when restrictions are lifted to be ready.
New Business and Updates
Reviews of previously assigned policies
Technology
Season and Adam are working on this and will hopeful be ready to present for approval at the April.
Approval of Revised facility use policy
Analeigh motioned to approve revised Facility Use Policy. Eric seconded. Motion passed.
Missouri Annual Conference
Adam shared about the Missouri Annual Conference. One of the items to be discussed and voted on this year will be changing from 9 districts to 5 districts. This is an effort to help churches pay less in apportionments and to also help smaller rural churches. Future annual conferences could be focused on the reaction to General Conference.
Each church is able to have one lay member per pastor. Bill Nicely will be attending. If anyone else would like to attend, please let Adam know.
Easter service planning update
Easter Services will be Drive-In Worship. Times are 8:00am, 9:00am, 10:00am & 11:00am. There will be handouts for adults and children.
Focus Team Reports:
Finance report –
Insights from February Financials (if available), trends
Nothing stood out that needed to be discussed.
Update on account definitions
This document will be added to the LT general information folder. This will be a document that can be edited. The goal is to help current LT members and new members understand the different accounts, what they are used for & how they trend.
SBA forgiveness application
The PPP Loan was forgiven through the SBA. This should be reflected in the March Financials.
The PPP Loan was needed and it has help with the church's financial position.
The March 19 dashboard shows that we are operating under budget. We need to continue to use funds wisely.
Trustees –
Parsonage inspection
Parsonage inspection will be on Saturday, March 27 at 10:00am. Forms will be given to Mary to send to the district office.
Lawn maintenance contracts
CJ Miller and Mary will be looking at the contracts on Tuesday, March 23 and will figure out which company(s) to go with for lawn maintenance.
Carpet issue
CJ talked with the company who installed the carpet. The company said Ed Pick did the correct thing by gluing down the edges. The edges coming up was due to the extremely cold weather. If it happens again, we are to let the company know.
SPRC – reports as needed
Pastoral evaluations
Digital Media Specialist job description
Contact the Leadership Team