Our Leadership Team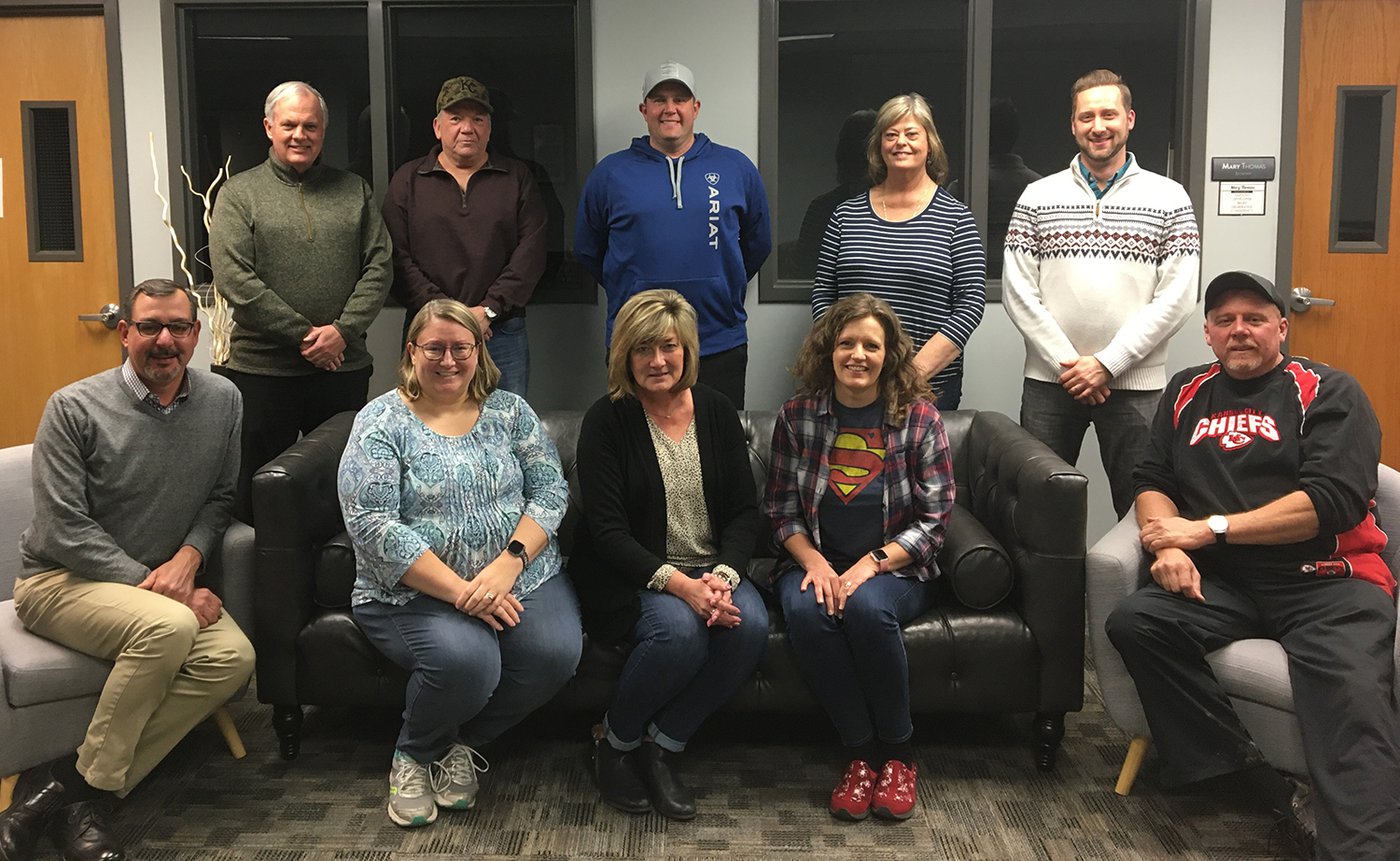 2019 Leadership Team
Carolyn Gillespie - Chairperson - leadership@kearneyfumc.org
Ron Teague
Mike Gonzales
Eric Nauman
Nic Christensen
Bill Nicely
Teresa Brent
Jim Smith
Season Kerns
Leigh Ann Eubank
Adam Mustoe - Pastor
Leadership Meeting Minutes
Leadership Team Meeting minutes.
Leadership Team Meeting May 18, 2020 through Zoom
Attendees: Carolyn Gillespie, Bill Nicely, Eric Nauman, Mike Gonzales, Jim Smith, Nic Christensen, Season Kerns, Leigh Ann Eubank, Ron Teague, Teresa Brent, Adam Mustoe, Sherry Oxandale, Mary Thomas, Michelle Cobb & Jeremy Schneider
1. Pray for COVID-19 crisis
Adam opened the meeting in prayer.
2. Moment to focus on Staff – Michelle Cobb, Jeremy Schneider & Mike Rogers
Everyone introduced themselves to Michelle & Jeremy and said what service they attended.
Michelle is the 92 Campus Contemporary Worship Director and Jeremy is the 92 Campus Traditional Worship Director. Both explained what their jobs are.
Questions, some fun and some job related, were given to them prior to the meeting so the Leadership Team could get to know both of them better.
3. Leadership Development and Spiritual Formation – Mike Gonzales
Mike shared a definition of synergy – the whole being greater that the sum of its parts. Everyone has different gifts but we are all part of one body.
4. COVID 19 Response Updates
a. What to do in June, reopening
The Leadership Team was given a survey to review that will be shared with the congregation through survey monkey to get a feel of where the congregation is in regards to COVID – 19 and the return to worship services. This survey will be sent out later this week.
On Wednesday, May 27 there will be a live worship service to be recorded for Sunday, May 31. Capacity is limited to 70 people so attendance will be by reservation. We will not have in person Sunday worship services May 31 and June 7. We want to make sure we can offer quality in person and online worship services.
b. PPP loan, nursery workers
The last Sunday the nursery workers were paid was March 8. Since they were part of the count of average number of employees for the PPP loan, they will be paid based upon their average hours worked per week. Their pay will begin on March 15.
c. Bylaws
Ron Teague and Mike Gonzales checked the safe deposit box at the bank and could not find Bylaws that Academy Bank was asking for as part of the PPP loan paperwork. They did find the Articles of Incorporation in the safe deposit box. They talked with Dave Hincke from Academy Bank and Dave felt that the Articles of Incorporation would work for this purpose.
Will need to work on Bylaws at a later date.
5. New Business and Updates
a. Policy review assignments
i. Reviews of previously assigned policies
1. Van
Bill Nicely has been talking with Chuck Morris, James Greene & Associates Insurance, for guidance in creating a Driver Policy.
2. Communication
Nic Christensen and Teresa Brent have been talking with Mike Chaloupka and seeking his input. Discussed continuing to work on the policy but things may need to be updated in regards to COVID – 19. Also talked about either creating a Social Media Policy or adding it to the Communication Policy.
3. Technology
Season is working with Mike Chaloupka on this policy.
ii. Assign new policies
1. Vacation Policy (in Employee Handbook)
Mike Gonzales, Carolyn Gillespie and Adam Mustoe will work on this policy. There is currently no system in place to track time off.
2. Childcare and Safe Gatherings
Season Kerns and Leigh Ann Eubank will work on this policy. Season has completed the Safe Gatherings certification which is new this year.
b. Job description assignments
i. Reviews of previously assigned descriptions
1. Communications
Eric Nauman and Mike Gonzales are working with Mike Chaloupka to update the job description.
2. Hospitality Coordinator
Eric Nauman and Mike Gonzales have received input from Sheila Pick and will update the job description.
3. Piano Accompanist
Talked with Jeremy Schneider since he is the one in charge of the piano accompanist and he said the job description looks good.
ii. Assign new descriptions
1. Secretary
Adam Mustoe and Mary Thomas will work on this job description.
2. Associate Pastor – 92 Campus
Adam Mustoe, Sherry Oxandale and Teresa Brent will work on this job description.
Bill Nicely will help with job descriptions where needed.
6. Budget Review, Finance report
a. Insights from April (if available) Financials
Did not have April Financials. We have been receiving a weekly dashboard from Miller Management which is handy and liked. Just have to remember to take it for what it is worth.
7. Trustees, Building report
a. Landscaping Improvements
Ron Teague presented a bid from American Lawn and Landscaping, Inc. to improve the landscaping around the church. The bid is for $10,409.00. Jim Smith motioned for the Leadership Team to approve the $10,409.00 to American Lawn and Landscaping, Inc. Season Kerns seconded the motion. The motion passed unanimously.
Ron Teague also presented information from Grass Action Lawn Care to apply lawn fertilizer and weed control for $513.00. This did not require a motion and was approved by the Leadership Team.
Ron Teague also presented a maintenance bid for the landscaping from American Lawn and Landscaping, Inc. for $4,920.00. This was tabled for now. Bill Nicely will get more bids from other companies.
8. SPRC, reports as needed
a. Children's Ministry reorganization
Next Leadership Team Meeting will be on Monday, June 15 at 7:00pm.
Approved through email: Mike Gonzales, Carolyn Gillespie, Bill Nicely, Teresa Brent, Jim Smith, Ron Teague, Season Kerns, Nic Christensen, Eric Nauman & Leigh Ann Eubank
Contact the Leadership Team