Our Leadership Team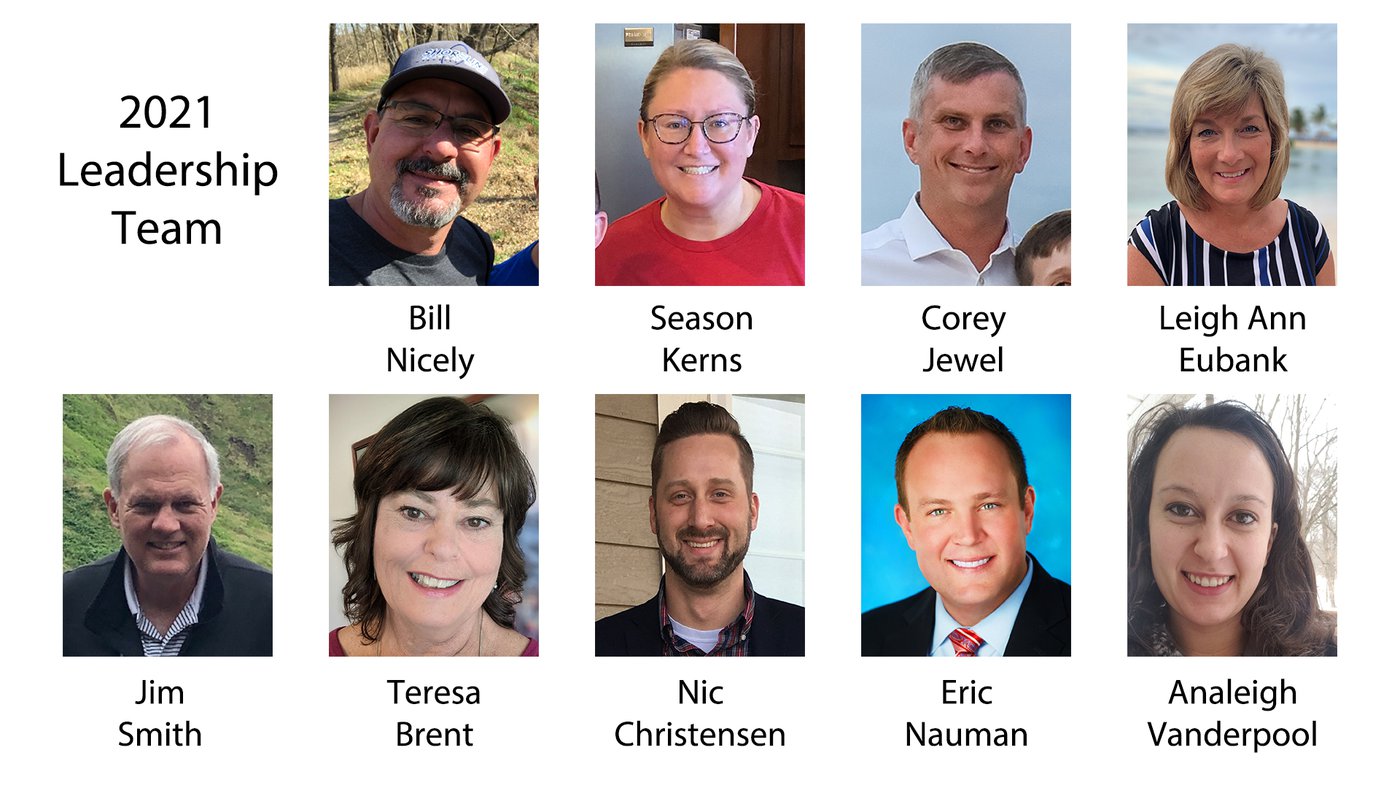 2021 Leadership Team
Bill Nicely - Chairperson - leadership@kearneyfumc.org
Eric Nauman
Nic Christensen
Teresa Brent
Jim Smith
Season Kerns
Leigh Ann Eubank
Corey Jewel
Analeigh Vanderpool
Adam Mustoe - Pastor
Leadership Meeting Minutes
Leadership Team Meeting minutes.
Leadership Team Meeting August 23, 2021 through Zoom
Attendees: Bill Nicely, Jim Smith, Corey Jewell, Nic Christensen, Season Kerns, Eric Nauman, Teresa Brent, Analeigh Vanderpool, Adam Mustoe, Sherry Oxandale & Mary Thomas
Opening prayer
Adam opened the meeting in prayer.
Leadership Development and Spiritual Formation – Adam Mustoe
Adam shared an excerpt from the book "A Burning In My Bones: The Authorized Biography of Eugene H Peterson" by Winn Collier. The business of running the church allows us to do ministry but we should never forsake our first love. Forsaking our first love is referenced in Revelations 2:4. He closed by sharing a note from Judy Gingerich to the Leadership Team.
Approval of minutes
Teresa motioned to approve the July LT meeting minutes. Season seconded. Motion to approve minutes passed.
COVID response and update
Discussed the process that Adam used to share with the Leadership Team what he was sharing with the congregation on behalf of the Leadership Team and himself. Everyone liked the process and what he shared.
Staff will wear mask when they are at church and not in their office. Joyful Noise Preschool will recommend wearing mask for their students but it is not required. Teachers will wear mask.
Focus Team Reports:
Finance report –
Insights from June and July Financials (if available), trends
Eric – Cash on hand continues to grow and expenses are low. People continue to give to the building fund.
Nic – We had additional expenses in August due to paying for Flood Insurance. Expenses will increase with preschool starting but we will also receive additional income.
Building Fund – Adam will meet with Gary Marchbank to make sure we honor the original intent. Bill suggested creating a committee made up of Leadership Team members and members of the Building committee to create a vison going forward. This vision could then be presented to the congregation.
October series and insights from TX group - Adam
We need to make it easy for people to give. There is a program called Dip Your Card that Adam will look into. Adam talked about putting people's offering to work. He will be doing a sermon series called B.L.E.S.S. that will share about this. He is working with Debbie Buzard to have projects to be funded by the church that groups can participate in.
From his Texas group he learned about Expression of Generosity. He shared different graphs that showed congregation size, budget size, and where finances are spent and compared our church to other churches.
It was recommended that we have 45 days of cash reserves on hand. This can be something that the Finance Team can determine. When we look at ministry budgeting for 2022, we will need to keep this information in mind.
Trustee's report –
Storm Damage
Several people have looked at the picnic shelter to see if it can be repaired. It is hard to find replacement metal and the structure is not very sturdy. Jim will discuss with our insurance agent about a new structure.
Trash/dumpster update
Recycle bin is being removed but has not been yet.
Trees in northern walkway
The dead trees have been removed and new ones will be planted in the Fall.
SPRC – reports as needed
Building and Grounds update
Communications Director update
Next meeting will be September 20, 2021
Approved on September 20, 2021 LT meeting.
Contact the Leadership Team