Our Leadership Team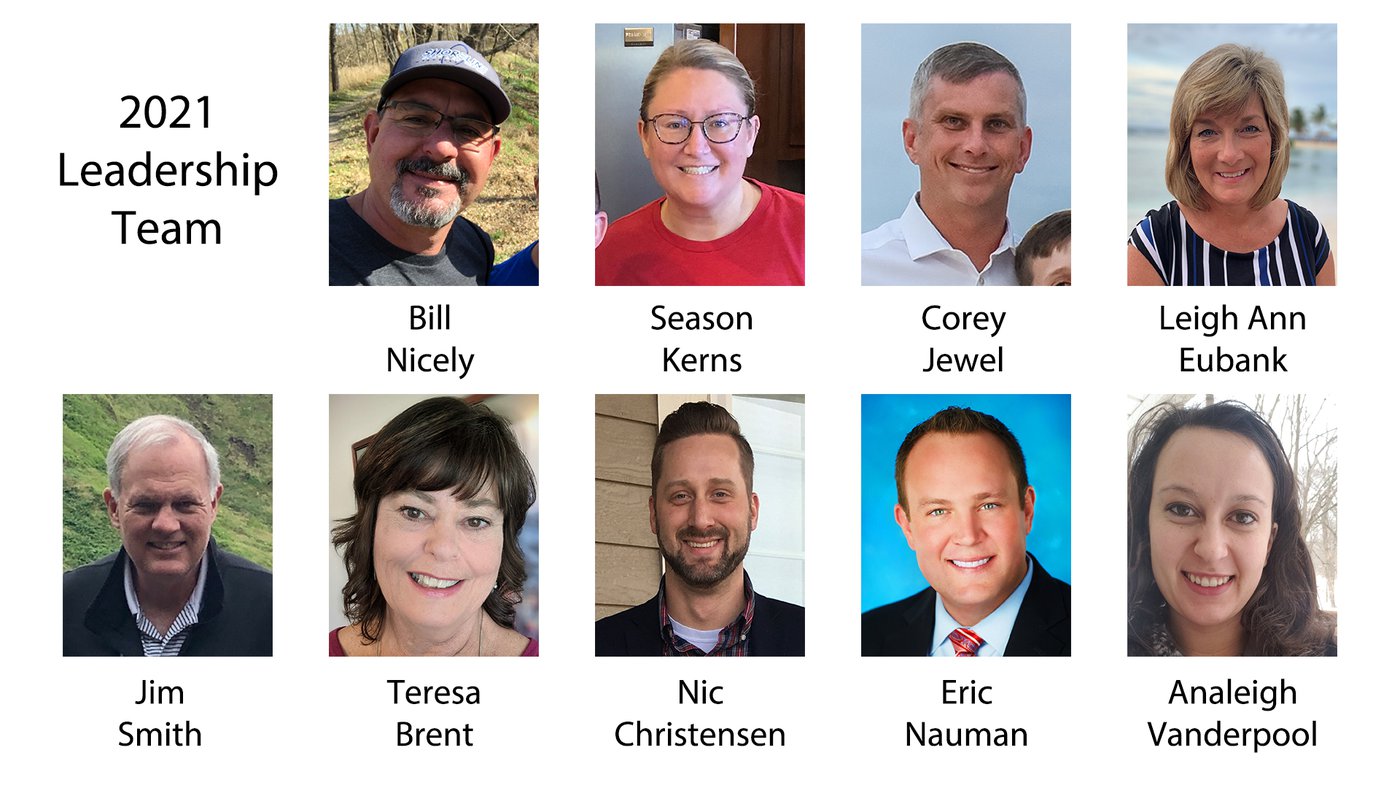 2021 Leadership Team
Bill Nicely - Chairperson - leadership@kearneyfumc.org
Eric Nauman
Nic Christensen
Teresa Brent
Jim Smith
Season Kerns
Leigh Ann Eubank
Corey Jewel
Analeigh Vanderpool
Adam Mustoe - Pastor
Leadership Meeting Minutes
Leadership Team Meeting minutes.
Leadership Team Meeting March 21, 2022 through Zoom
Attendees: Nic Christensen, Season Kerns, Eric Nauman, Teresa Brent, Sarah Owen, Noelle Simmons, Corey Jewell, Bill Nicely, Adam Mustoe, Sherry Oxandale, Mitch Buhman & Mary Thomas
Opening prayer
Adam opened the meeting in prayer.
Leadership Development and Spiritual Formation – Analeigh Vanderpool
Approval of minutes
Sarah motioned to approve the February LT meeting minutes. Season seconded. Motion to approve minutes passed.
June retreat?
Adam will work on a date to have a post Annual Conference retreat for the Leadership Team either in June or July. He asked for any dates that do not work from the LT. He will also send out materials for the retreat.
Focus Team Reports:
Finance report –
Insights from February Financials (if available), trends
Cash on hand continues to go up. Eric motioned to move $12,000.00 from the General Fund into the Capital Expenditure Fund to bring the account above $50,000.00 which is the minimum it is required to have. Nic seconded. Motion passed. February financial statement questions where answered.
Audit update -
Corey has reached out to 3 different accounting firms, including Miller Management, for bids. This is a busy time for these firms, so have not heard back from any of them.
Trustee's –
Parsonage inspection
Inspection went well. Forms will be signed and sent to the District Office. There are forty items that need to be addressed. They will be tiered and prioritized with dates to complete. Some work has already started.
If the Parsonage Repair account goes over the $600.00 budgeted, funds can be moved to cover the additional expenses.
Flooring –
The trustees will seek professional recommendations. What areas need to be completed first will be prioritized in tiers.
Property updates: Street lamp, water fountain, entrance concrete
Street lamp will be placed near the driveway by the city. Adam will call the city to give them the okay. Mitch will reach out to Long Veterinary Clinic as a curtesy to let them know about the street lamp.
Water fountain are ready to use. Covers were taken off when mask requirements were lifted.
Mike Steeby will be working on replacing the entrance concrete and also redoing the concrete near the bell tower. This will be either a spring or summer project.
SPRC – reports as needed
Staff goals for 2022, follow up
Pastor evaluations
Next meeting will be April 25, 2022
Approved on April 25, 2022.
Contact the Leadership Team