Our Leadership Team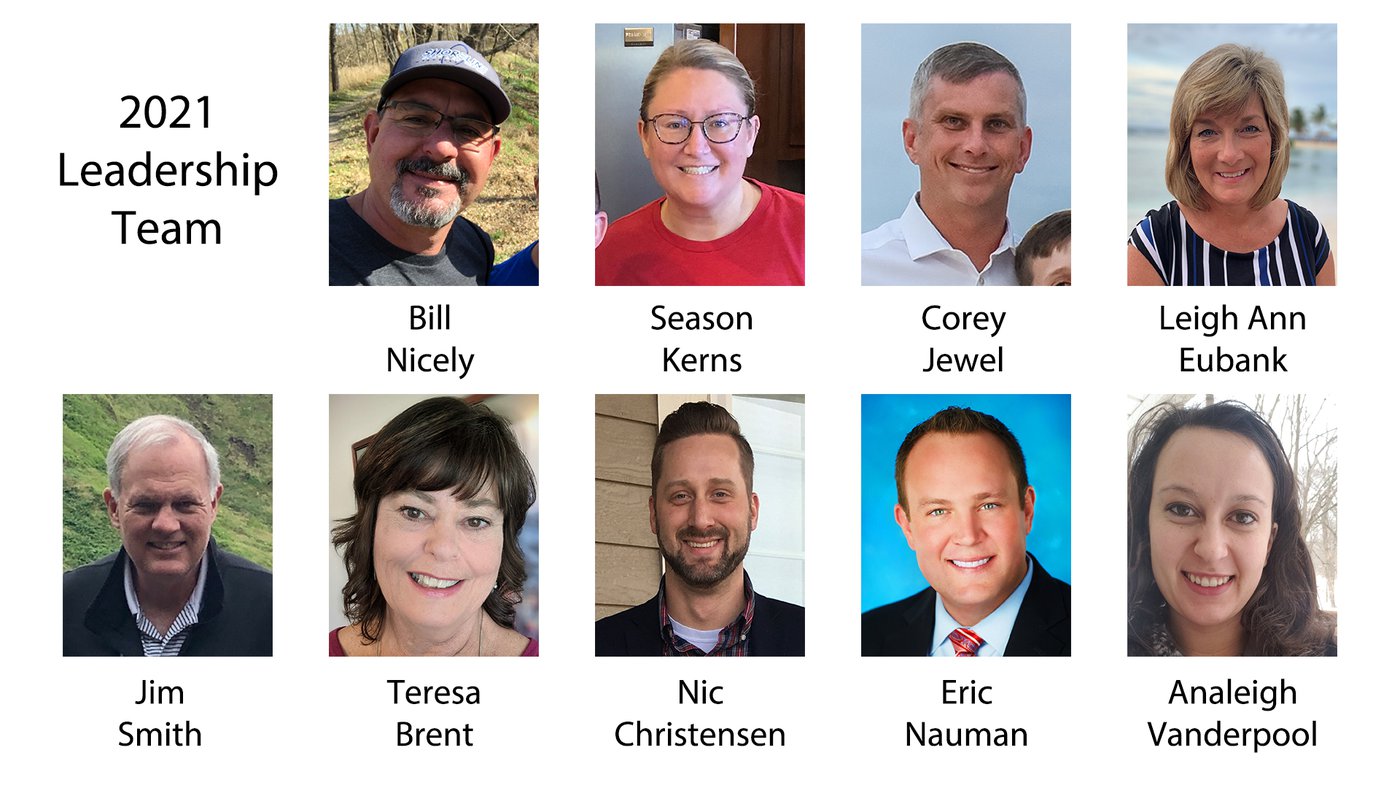 2021 Leadership Team
Bill Nicely - Chairperson - leadership@kearneyfumc.org
Eric Nauman
Nic Christensen
Teresa Brent
Jim Smith
Season Kerns
Leigh Ann Eubank
Corey Jewel
Analeigh Vanderpool
Adam Mustoe - Pastor
Leadership Meeting Minutes
Leadership Team Meeting minutes.
Leadership Team Meeting December 15, 2020 through Zoom
Attendees: Carolyn Gillespie, Jim Smith, Nic Christensen, Leigh Ann Eubank, Ron Teague, Teresa Brent, Bill Nicely, Eric Nauman, Season Kerns, Adam Mustoe, Sherry Oxandale & Mary Thomas
Opening prayer
Adam opened the meeting with prayer.
Moment to appreciate outgoing members
Adam thanked Carolyn and Ron for their dedicated service not only to the Leadership Team, but the church as a whole.
Leadership Development and Spiritual Formation – Carolyn Gillespie
Carolyn shared about JOY and referenced Nehemiah 8:10.
COVID 19 Response Updates
Adam shared that increases in COVID cases are real so the decision to not meet in person for worship and small groups was wise even though hard.
New Business and Updates
Bylaws – update – see document
The By Laws were presented to the Leadership Team to discuss. Teresa motioned to accept the By Laws as written with adding "AKA Leadership Team" in Article V – Board of Directors section and correcting the Article numbers. Jim seconded. Motion passed.
Policy review assignments
Reviews of previously assigned policies
Technology – No update
Funeral and Wedding Fee Schedule
Discussed trying to combine these two policies along with the General Use of Facilities Policy. Adam and Sherry will work on this.
Outdoor Facility Use Policy
Season is working on this policy and she asked for additional input and information.
Budget Review, Finance report
Insights from November (if available) Financials
November Financials were not available.
Trustee's, Building report
The Dane Nelson tree was planted. It will need to be watered every few days for the next three years. Ron will water the tree this week. A team will need to be put together to take care of the watering after this week.
Ron brought to the Leadership Teams attention that some of the outdoor floodlights are out and will need to be fixed.
Lights in the Fellowship Center still need to be fixed. Bill and Ron will work on this.
Leigh Ann shared that the trees around the garage/barn need to be trimmed.
SPRC, reports as needed
Review job description assignments
Communications Director
Contemporary Worship Leader
Contemporary Worship Leader (2nd site)
Approved through email – Carolyn G., Ron T., Eric N., Teresa B., Nic C., Season K., Jim S., Leigh Ann E. & Bill N.
Contact the Leadership Team