Get Involved
July is Name Tag Month - We will have name tags out in the lobby for the month of July.
Upper Room Devotionals for July/August are available. The FREE daily devotionals are available in large or regular print. Please pick yours up from the information tower located in the lobby.
Merry Martha's will be collecting vitamins for Haiti children during the month of July - "Christmas in July for Haiti". Please drop of vitamins labeled "Haiti" at the Outreach Collection Bin located by the kitchen serving window.
RightNow Media there are 200 people using our church's free gift of RightNow Media! RightNow Media offers over 15,000 videos. There is something for everyone: kid's bible videos, marriage enrichment, parenting expertise, bible studies and more. To request the RightNow link, please go to the website and click on the "Your Next Step" card or email Sherry Oxandale at soxandale@kearneyfumc.org
Children's Ministry - First Kids
Are you looking for a way to….Deepen your spiritual life? Feel more connected in our church family? Find a way to use your gifts and talents to serve others? If so, stop by the ministry table during June, or go to the First Kids card on our website to see where your gifts can be used to bring up the next generation of children in our church and community. Strong and positive role models are vital to ensuring the success and spiritual growth of our young people! Contact Lisa Boggess for more information. lboggess@kearneyfumc.org
First Kids Ministry
Explore the ministry opportunities for your children, birth to 5th grade
First Kids
Student Ministry - IMPACT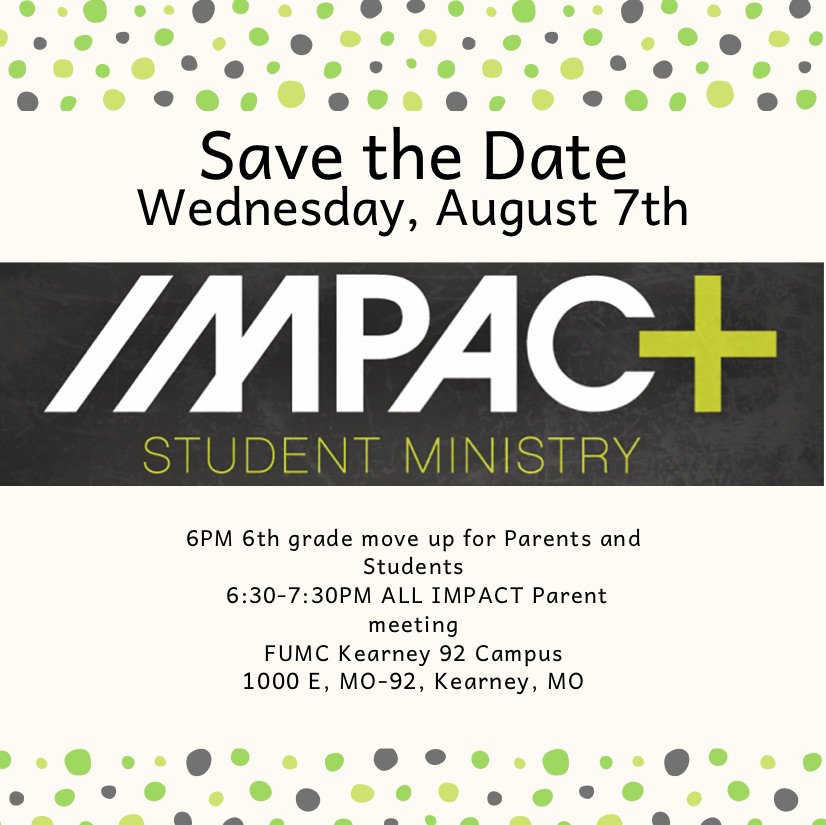 Impact Team Member Informational Meeting
July 31 @ 6:30 in the Fellowship Center
Greeters, Meal Team, Small Group Leaders Wanted
IMPACT - Student Ministries
Explore the ministry opportunities for your students in grades 6-12
Learn More
Care Ministry
Westbrook Worship - TODAY, Sunday, July 14 at 2:00 pm. You're invited to enjoy fellowship and participate in worship with the residents of Westbrook Care Facility. Please join us! 401 Platte Clay Way, Kearney.
H.O.P.E (Help Optimism Prayer Encourage) H.O.P.E. Ministry's mission is to make sure no one in our congregation (or community) faces a serious illness or life transitions without spiritual and practical support. If you are in need of meals, transportation, childcare, someone to talk with, or any other practical means of support.
Stephen Ministry – Life transitions (new home, new baby, divorce, unemployment, etc.) are made easier when there is a compassionate person available to listen and give encouragement. Trained Stephen Ministers are available to do just that!
For more information about these Care Ministries or to learn more about our Care Ministries, please contact our team by clicking on the "Care Ministry" card on the website.
Outreach Ministry
Baby Grace lunches - We are asked again to make sack lunches for Family Camp for Baby Grace on Sunday, July 21st at 9:00 in the church kitchen. If you would like to participate in making these lunches or provide donations please email Susan Hevalow at susan.hevalow@gmail.com. Items needed for sack lunches are: 8 loaves of Aldi wheat bread, 1 pound of sliced ham, 3 pounds of sliced turkey, 3 - 24 packages of sliced American cheese, 3 bags of apples and 3 bunches of bananas. You do not need to provide all the item, you can break it down to one package of cheese for example. Blessings to all
Kearney Food Pantry - We provide for many families through the summer. Can you please help restock our shelves? Some of the top needed items include: Pork 'n beans, Vienna sausages, cold cereals, pop tarts, granola bars, coffee, tea bags, kool-aid. Items can be placed in the collection bins by the kitchen, outside the sanctuary doors.
Haiti Buy A Block - We are still in need to meet our $10,000 goal for our Build Project in Haiti. $20 / Block. "Buy a Block; Be a Build Partner. Please see the display in Lobby.
Garden of Eatin' - If you are interested in helping with the garden this spring and summer, please sign up on the Outreach Card.
There are other Outreach Opportunities available in July and August, please visit the Outreach Card at www.Kearney.church for more information or to sign up.
Outreach Ministry
Want to serve outside the walls of the church? Sign up here for upcoming opportunities.
Go here to serve others
The Connections Newsletter Archives
Stay connected with our weekly newsletter that includes a message from our pastor and highlights of upcoming events. Below are links to previous newsletters and the sign up button to start receiving them automatically.
What's happening at First United Methodist Church?
There's always something great happening at First United Methodist Church for you and your family. Explore our full calendar of upcoming services and events using our calendar below!